In the backyard of Himalayan Kumaon, 50 km from Mukteshwar, is a lovely 2 bedroom private property called
chalinchina
,
which is popularly called the hamlet of the Himalayas. Set on terraced fields, this retreat features intriguing architecture and an ambiance to die for. Located at the foot of the slopes, accessible, this property lives up to its name
J
the house on the slope
.
It is a stunning all-glass house that offers spectacular views of the snow-capped Himalayan peaks such as Trishul and Nanda Devi. In the morning, wake up to the beautiful sun streaming through the canopy and soothing your face, while at night you can immerse yourself in the beauty of the night sky from their warm and comfortable rooms.

You can also enjoy a bunch of Kumaon dishes here. Beautifully camouflaged by forests of oak and lemon trees, this is the perfect place to rewind and rejuvenate your weary soul.
The structure was made of stone bricks which were carefully hewn from Himalayan stone giving it a rustic look. It is a minimalist property with comfortable rooms, modern furnishings, and contemporary architecture. This place is synonymous with intimacy and beauty. If you like to be surrounded by nature, this place is for you!
The structure inside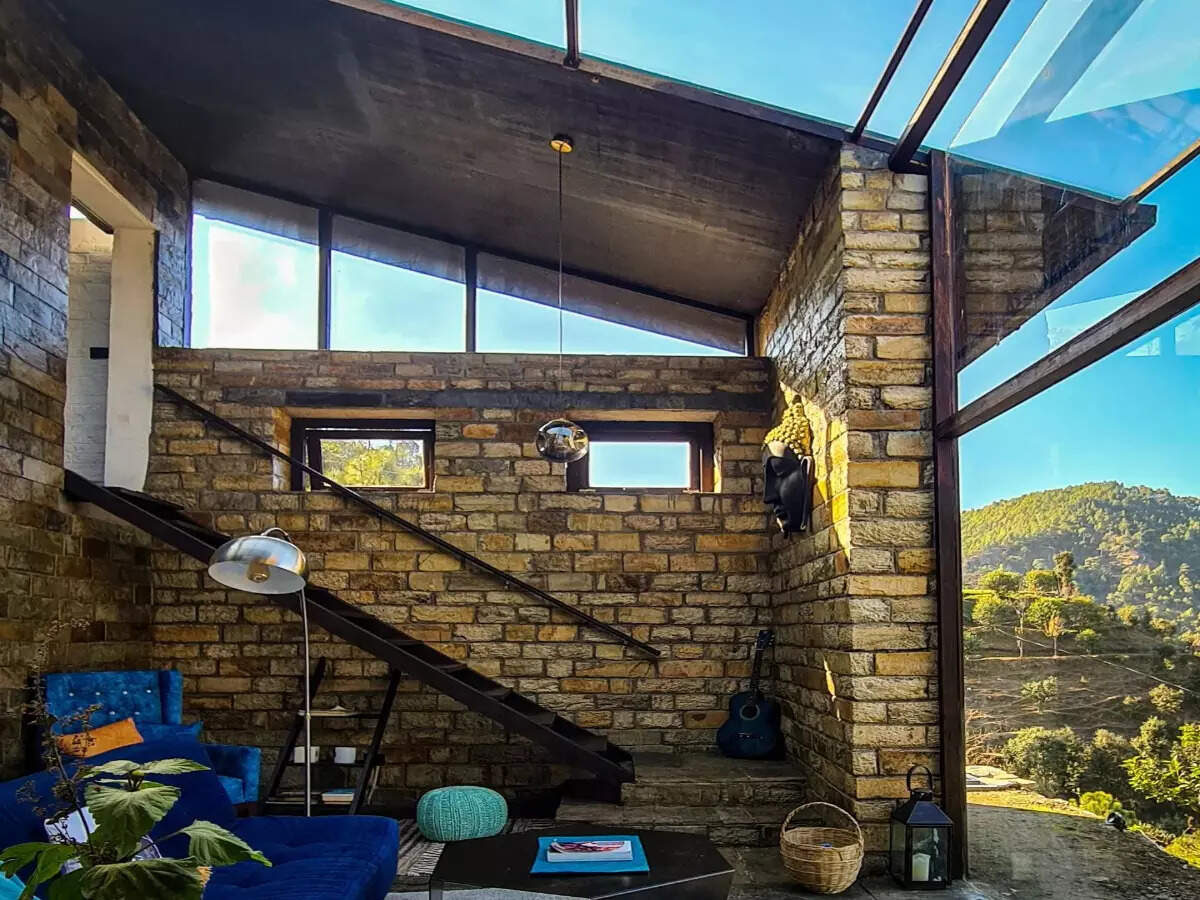 The structure inside is built with a beautiful blend of traditional and modern architecture. As soon as you enter, a beautiful living room with a large space and a breathtaking view will await you. The living room includes a central sitting area, a comfortable dining area and a cozy corner for book lovers. The place is full of small windows that let natural light inside. One can peek through these windows to witness the majestic beauty of the Himalayas. Both bedrooms have a warm layout with warm interiors, thick walls and a floor made up of thick stone bricks. From the glass roof of the second bedroom, the picturesque landscapes sparkle at night. On the highest level, there is even a well-organized kitchen. It has a separate entrance and gives complete privacy to guests.

Things to keep in mind
At a time, only one group of guests is allowed. The entire property can accommodate up to six people. Breakfast, lunch and dinner are prepared by their chef. This is a pet-friendly property, so you can bring your furry friends too. And note that, as you will be staying in the middle of nature, it is advisable not to put on loud music.